Preveli beach and Monastery in Crete | carrentalstop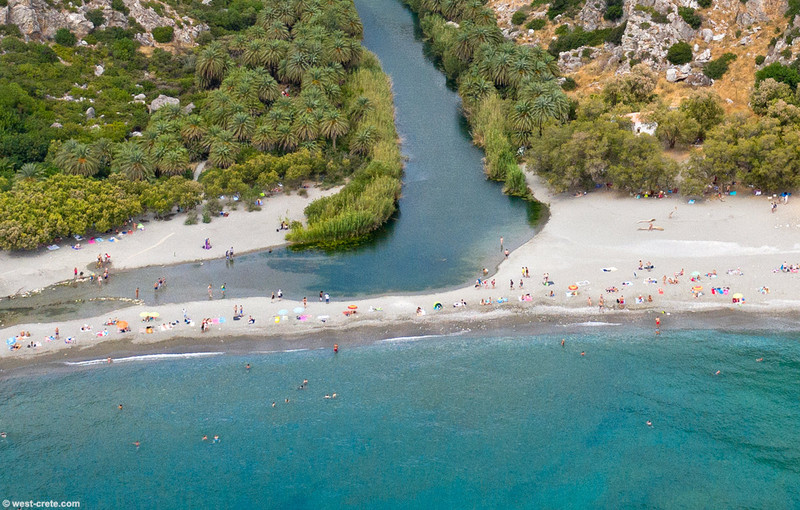 Things To do In Preveli Beach Crete
Fondly called Phoenix or Lake Preveli by locals and tourists who visit often, this stunning beach is located just outside the massive Kourtaliotikos Gorge and is often referred to as the most popular beach in south Crete. It is a tropical oasis that stands out from other beaches in Crete thanks to the imposing Theophrastus palm trees that provide shade and a stunning backdrop for the beaches. There are beautiful little ponds the gorge formed that visitors can swim in quite easily. Since Preveli Beach is located in the east of Plakias and south of Rethimnon, it is easily accessible by road. If you need help getting around the islands and locating the beach, there are awesome auto rental services available for you to rent cars that take you around the town easily.
Cool sandy beaches
Thanks to the great river Megas Potamoswhich flows out of the gorge, the waters on this picturesque beach are always cool and comforting to swim or splash in. The beaches have crisp clear waters and are well preserved. If you look out on the water, you'll notice a heart-shaped rock that is interesting to see. You can also go snorkelling in the Prevelibeaches clear waters and frolic with ocean life. Since there are no umbrellas at the beach, you can seek shade in the palm trees while you sunbathe or enjoy a snack from the local taverna. You can also pack your own snacks and lunch and have a little picnic if you desire. Navigating your way to the beaches can be challenging because of the rocky route however with our auto
rental cars
, you will find it quite easy to navigate the roads as they are sturdy and accustomed to the route.
A relatively untouched space
Thankfully, the beach is very much preserved and has not been developed much unlike some other beaches in Crete. There are no overnight lodgings available so you will have to make it a day trip if you plan to visit the beautiful Preveli beach. Simply get a pedal boating you please and transverse the cool river that leads to Preveli beach for an experience you won't likely forget anytime soon.
The Preveli monastery
For a change of scenery, beachgoers can visit the monastery of Preveli beach to take a look at the relics and sacred vessels on display in the museum. In addition to having several cells and libraries, the monastery is also a part of the history of Crete as it was used as a refuge during the Herman occupations. Many locals and foreign soldiers took shelter in the monastery during the Turk invasion and the battle of
Crete
.
Conclusion
A helpful tip for your trip to Preveli the beach is to wear comfy shoes because whether you come in from DrimiskianoAmmoudi or from Preveli monastery after you rent a car in Chania or Heraklion, you will be required to park a distance away and walk down a footpath that leads to the beach. Visiting the popular beach is definitely something anyone who visits Crete should do and with an efficient auto rental on Crete like ours, simply make a booking to rent a car for getting to your destination.
carrentalstop