Matala Beach | carrentalstop - Crete car rental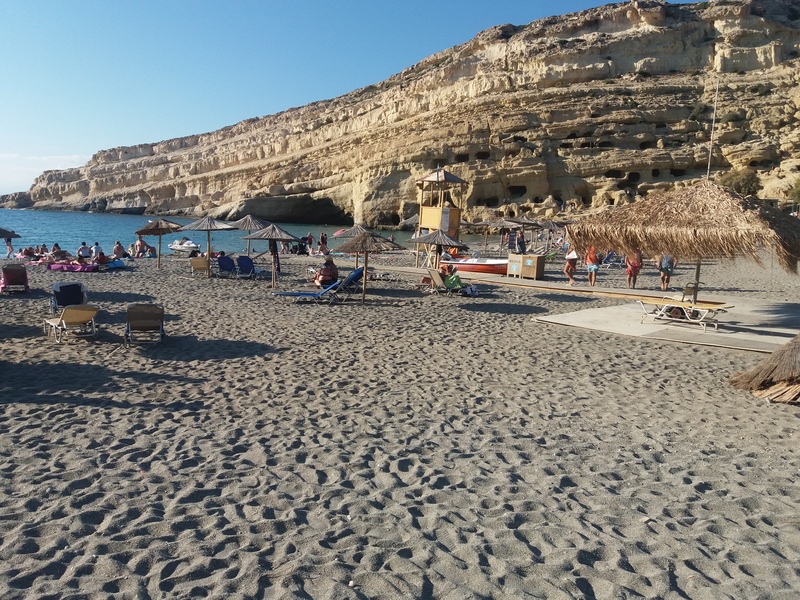 Matala Beach. A Must See For Visitors
You have probably heard of some of the most amazing beaches that you should visit when you are in Crete. There is no shortage of amazing views of the ocean where you can relax and unwind alone or with your family but one beach that is truly a gem among all others is the Matala beach. Easily accessible from Heraklion airport, there is so much to do in this lovely town such as partaking in a hippiesque pop festival that is organized every year. If you are ready to see and experience some of these beautiful attractions, all you need to do once you arrive in Crete is to rent a car when you find a car rental in the airport and make your way to this lovely town.
The Crete town to remember
As you drive into the town, you are immediately greeted by a mural painted on the harbour wall. A well-known fact about Matala beach is that its many ancient Minoan caves carved out of soft white stone were once home to a number of hippies who keep the pop festival live since it is quite near to Phaistos one of the sacred palaces of Minoans. Located between the plains of Asterousia and Messara in the southwest of Heraklion there is an endless supply of beautiful sights to behold while you stroll along its pebbled beaches.
The hippies have since been relocated to other towns but the exciting points of the town still remain. One thing a lot of visitors absolutely must-see when visiting is the red beach among other unique scenery the town offers. The beach is situated at the outside of a valley with lots of umbrellas, beach volleyball, excursion boats, water sports, and so many other attractions are available. If you like sports and a bit of competition, you can participate in the frequently organized beach volleyball matches and stroll down to the many tavernas for a hot meal.
Ample accommodation
If you would like to have permanent access to the beach at a short distance, there are many holiday villas available for rent. Once you rent a car in Heraklion airport, simply head down to your lodgings to freshen up and then hit the white sandy beaches for some fun. You can also find natural shade under the cover of the trees that dot the beach as you relax. That is the ideal plan everyone makes before visiting this amazing beach and you shouldn't miss out on it. Even the caves have been used as accommodation as they are sacred tombs used during the Roman periods and since it has been used in recent times by the hippies, they have carved stairs, windows, and even beds...
Conclusion
Getting to Matala beach is quite easy if you follow the signs along the Mires road. With any of our cars rented straight from Heraklion airport, you can see as much of the town as possible including a quick stop at the neighbouring town of Phaistos. Enjoy a slice of history and have a view of the stuff of myths as the cape south of Matala is believed to be the point where Odysseus and the ships of Menelaos were wrecked.
carrentalstop.gr
Photo Gallery