Hora Sfakion - Crete
Hora Sfakion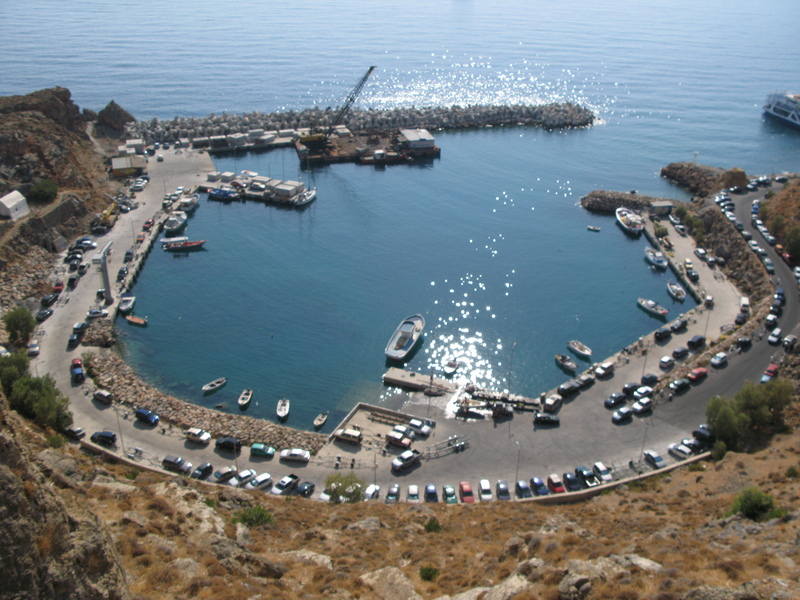 Hora Sfakion in Crete is placed 50 km southeast of the town of Chania, and about 130 km southeast of the town of Heraklion. Nice place and a nice route from wherever we start. Usually this option to get there, without being lacking with interest, as a route and as a visit to a nice place is for people they are interested to visit at least the last part of the famous gorge of Samaria. This means that they rent a car from Chania or they rent a car from Heraklion, they get to Hora Sfakion, and then with the boat to Agia Roumeli which is the end of the gorge.
In that way, the visitors decide how far they want to walk into the gorge, and then back again to the boat for Chora Sfakion to find their car.
Hora Sfakion looks abandoned in the morning as excursionists have all taken the ferry boat over to Agia Roumeli, where, without making too much of an effort, they will want to spend time absorbing the beauty of the Samaria gorges. They will be back in the evening though when they will start mingling with the real travellers, who can be easily identified by their knapsacks, hiking boots, and their exhausted appearance after completing the seventeen-kilometre descent.
The village of Hora Sfakion is spread out around a natural inlet below the surrounding mountainside. While the upper reaches of the village – a grey agglomeration of stone dwellings with a slightly abandoned appearance - from the oldest part, the most lively area is around the harbour, which is 'protected' by a hill covered in green cluster pines. At the top of the hillside, we can see the ruins of a castle dating back to the early years of Venetian domination. Hora Sfakion is in any case not just a point of departure for trips into the mountain gorges: there are quite a few charming beaches very close at hand.
From Hora Sfakion you can take the ferry boat on a small trip to Paleochora passing by Loutro, Agia Roumeli, and Sougia. It is a fascinating experience to slowly cruise along the coast so close to the impressive southern slopes of the Lefka Ori, (the White Mountains). You feel that you could almost reach out and touch them. Seen from the sea, the clearly visible course of the European Path follows the coastline, rising and descending on its way across the mountain range.
carrentalstop.gr
Photo Gallery